homemade lip scrub
Want to make your own homemade lip scrub?
These 3 lip scrub recipes make it simple to save your dollars and make a fun product that will leave your lips soft and luscious.
These recipes are so simple that you can find your ingredients in your kitchen and/or local health food store and you will benefit from an organic cosmetic.
This homemade lip scrub recipe will leave lips kissable and sweet. The natural ingredients fill lip balm tubes making this scrub convenient and practical.  Some ingenuity and patience are required for this process but well worth the effort to be ready for that perfect kiss. You can use other oils and butters (these worked well for us) and you can change the essential oil.
Icy Kiss Lip Scrub
Use a kitchen scale to weight these ingredients.
INGREDIENTS
28 grams (1 onz) shea butter
28 grams (1 onz) jojoba oil
14 grams (1/2 onz) beeswax
28 to 56 grams (1/2 to 1 onz) sugar (you can adjust the recipe depending on how much scrub you want)
Few drops vitamin E (optional)
30 drops wintergreen essential oil
This recipe will make about 15 to 20 lip balm tubes.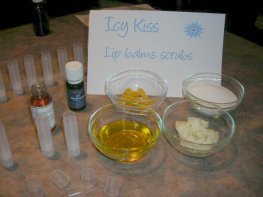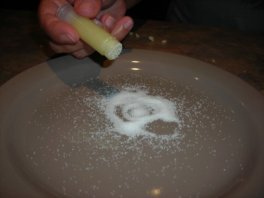 DIRECTIONS
Melt beeswax and shea butter in saucepan over low heat.
Remove from heat.
Add jojoba oil, vitamin E, essential oil.
Stir in sugar.
Quickly (the longer you take the thicker and harder the mixture becomes) add mixture to a new clean turkey baster or squeeze bottle. Next time I will try a plastic syringe for children's medicine.
Fill lip balm tubes.
This is optional but you can top off with some sugar to add a decorative effect.
Let cool and put caps on.
MORE RECIPES
While shopping at a favorite handmade cosmetic store, at the counter they were selling these tiny little containers with lips exfoliants. The flavors were sweet and included chocolate, raspberry and vanilla. I used lip scrubs before but found them to be harsh and they dried out quickly.
I was attracted to these products when the salesperson explained that these organic cosmetics where edible.
This got me thinking about how simple they must be to make…
Some research and some experimenting have brought me to conclude that exfoliating our lips makes all kinds of sense. A homemade lip scrub once or twice a week can reduce the buildup from chapstick, gloss and lipstick that washing does not get to.
Exfoliating is great for reviving dry cracked lips.
Honey Vanilla LIP Exfoliant
INGREDIENTS
2 tablespoons sugar
1 tablespoon honey
Few drops vanilla
1 teaspoon olive oil
Measure out your sugar and add a few drops of vanilla.
Add the honey and mix.
Add in the olive oil.
Mix well the sweet paste.
Place in a plastic container.
Voila!
Honey Raspberry LIP Exfoliant
INGREDIENTS
2 tablespoons raspberry-flavored sugar (any sweet flavored sugar will do)
1 tablespoon honey
1 teaspoon olive oil
Measure out your sugar.
Add the honey and mix.
Add in the olive oil.
Mix well the sweet paste.
Place in a plastic container.
Voila!
How to use your homemade lip scrub?
Take a small dime-sized amount from the lip scrub recipe. Rub on to your lips in a circular motion with your finger, with a cloth or even slightly with your toothbrush.
Continue this massage for about a minute.
Rinse with warm water.
Follow up, if you wish with some vitamin e oil, lip balm or olive oil to give your lips some added moisture.
Leave Homemade Lip Scrub and go to Homepage
Go to Melt and Pour Soap Making
Recipes
About Soap Making
Soap Making Methods
More Great Stuff!
Site Policies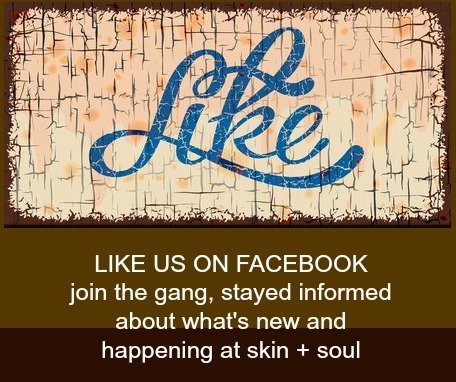 By Ron & Andrea Rennick, Copyright © 2012 to 2015 www.ridgesoap.com
 – All Rights Reserved