You will need the following:
Crock pot or stove top saucepan
At least one pound of unrendered pork fat (pastured lard is the best source of vitamin D)
If the fat is not ground, cut into very small chunks or use a meat grinder or food processor
Half-cup of water
One tablespoon of salt per pound of fat (optional)
Large spoon
Sieve or colander
Cheesecloth or paper coffee filters
Jars with lids (ideally mason jars) or ziploc bags
The process:
Add the water and salt (optional) to the saucepan or crock pot and place pieces of fat inside. Set the temperature to the lowest heat setting.
Some liquid oil will start forming approximately one hour after the start of the process. Stir the lard around. Repeat that occasionally (about every 30 minutes or so) until all of the pig fat is melted.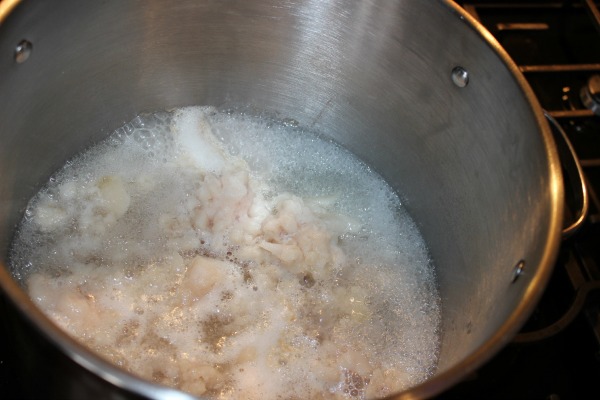 Let the lard continue to cook on low temperature for about 2 to 4 hours. Once all of the lard has melted, you will see some small brown bits on the bottom of the crock pot. These indicate the end of the process. You will now have to strain the rendered fat.
Line a colander or a sieve with a cheesecloth (or coffee filter) and pour the contents of the crock pot. This will separate the fat from the brown bits.
Pour the rendered lard into jars. Let it cool down or place in the refrigerator for a few hours. To extend the shelf life of lard, you can keep it in the refrigerator or in Ziploc bags in the freezer.