formulating an african black soap recipe
what you should know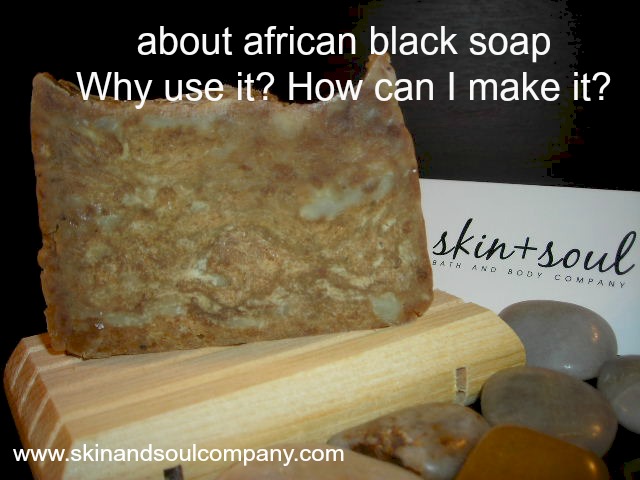 Searching for african black soap recipes…many budding soap makers look into finding out more about this sought-after soap.
African black soap is also known as "Ose Dudu" or "Alata Simena" or "Anago" soap. The phrases literally mean black soap in different African languages.
Different tribes who manufacture these soaps have typical their own african black soap recipes that make the final product in varying quality, however, the purest form of these soaps are produced in Ghana.
The texture of african black soap is crumbly and it is very soft, it is black to dark brown depending on the recipe. If there are white specks it might be because of alterations to the original product. The scent is earthy and again very unique from other soaps on the market.
benefits of african black soap

skin healing properties clears acne, soothes psoriasis and eczema; (my Mother will not use anything else for her dry skin!)
antibacterial and anti fungal properties;
oil-controlling properties;
gentle, moisturizing and nourishing with high percentage of shea butter;
made from natural ingredients (depending on the source);
money-saving because this soap can be used on the face, body and for hair;
versatile because you can make bar or liquid (from your bar) and add any other oils or ingredients that your skin would need.
making african black soap

There are three options for making your own.
ONE
Buy the raw base and use it as is or rebatch it (this is what I have done so far). I cannot make a specific recommendation but there are many resellers of african black soap on amazon.
TWO
Make develop your own african black soap "inspired" recipe. You can use palm, palm kernel oil, coconut oil, shea butter and cocoa butter. "Inspired" recipes use raw cocoa beans or cocoa nibs (nibs are natural raw chocolate, nibs are cocoa beans that have been roasted, hulled and prepared for consumption and plantain leaves powder.
THREE
Make it from scratch using the authentic process.
making authentic african black soap – not an easy quest
Access to the same quality of raw materials is difficult
African black soap recipes and the purity of the base ingredients and the long process to produce this unique soap. The quality of the lye they use in the soap making process is unique and matchless. They make their lye from the ashes of burned coconuts and cocoa pods.Using burned coconuts and cocoa pods makes everything different.Many believe that some parts of the African soil produce palm oil perfectly suitable to produce excellent lather in black soaps.. Certain soap makers buy their soap making supplies from african soil to ensure the quality of product.
The process can be reproduced with patience and practice and similar ingredients found online
This is NOT a recipe but more information to help you decide how you wish to proceed to make this wonderful soap.The steps involved in the preparation of african black soaps are as follows:
take out the cocoa beans from the pods;
burn them with plantain skins over a low flame until they turn to ashes (this becomes the lye);
add the ashes to distilled water;
heat the oils and butters (palm/shea butter/cocoa butter)  in double-boiler over low heat;
add the above ashes/distilled water with shea butter/cocoa butter to the mixture;
continue heating and stirring with a moderate low flame till the mixture is consistently smooth;
add any fragrance or color of your choice;
mold, cut and cure as you would other cold process recipes.
transforming into liquid african black soap

Liquify your bar soap by adding distilled water to your crumbled or grated raw soap. Let it sit for a day or two. It is recommended to add some rosemary extract or a preservative to ensure that no mold forms on your soap especially if you are gifting or selling your products.