Keep your skin cool with cucumber and aloe vera gel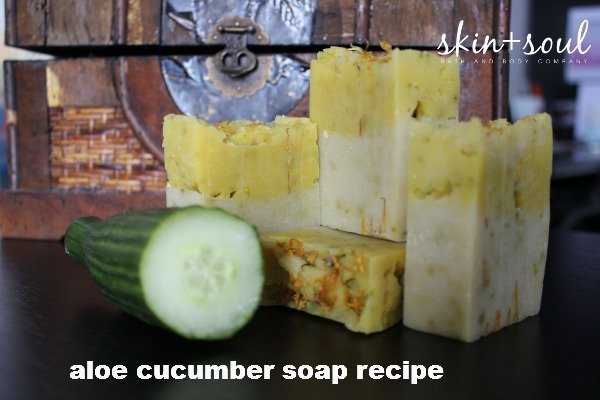 Here is a fun and skin loving aloe vera soap recipe that will refresh and rejuvenate your senses.
About Aloe Vera
The aloe vera is a cactus plant that has been used for medicinal properties for centuries.
Aloe vera juice is used as a supplement for internal issues in many alternative therapies but it's claim to fame is really  as a treatment for skin ailments such as sunburns, burns and irritations.
Aloe vera is claimed to:
stimulate the reproduction of skin cells;
clean and unblock pores;
soothe irritations and sunburn;
treat blemishes and acne and;
counter the visible effects of fine line.
There are many ways to include this wonderful ingredient to into your soaps and bath and body products. For this aloe vera soap recipe we have replaced the water with aloe vera gel juice and cucumber puree. Please note that the aloe vera gel juice does not really look like gel, it is very much a liquid like water type. There are other products called aloe vera gels that add a gelling agent. I used the raw material.
Many soapmakers like to buy the plant leaves and collect their own liquid for their own recipe. This is really up to you. It is simple and can save you some money.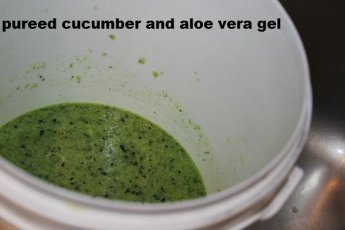 Aloe Vera Cucumber Mint
INGREDIENTS
Fats, oils and butters
150 grams palm oil
120 grams coconut oil
120 grams rice bran oil
90 grams shea butter
60 grams cocoa butter
60 grams castor oil
Lye ― Water Solution
82 grams lye (sodium hydroxide)
228 grams mix of cooled aloe vera gel juice and pureed cucumber (puree about 1/2 cucumber with seeds removed in blender or magic bullet then add aloe vera gel juice to the 228 grams weight and refrigerate for a two -three hours)
Additives at light trace
optional: 20 to 36 grams of your favorite essential oils or fragrance oils (you will need a little over 30  milliliters bottle the equivalent of about one fluid ounce). I used a blend of cucumber mint fragrance and lemongrass essential oil.
Additional additives
topped soap with calendula flowers
This recipe makes about 2 pounds of soap which will produce about 6-7 bars of natural soap.
Remember that ingredients (except for additives when indicated in volume) need to be weighted and not measured. Fragrance and essential oils should also be weighed.

Click here for cold process soap making recipe directions.
Want to try room temperature soap making