how to make herbal soap
Thereare many methods to making herbal soap. When you make your own soap ― it onlyseems natural to use herbs to benefit from their therapeutic qualities.
Herbswere used long before pharmaceuticals to prevent, soothe and heal bodies. Manyherbs are known for the positive effects on skin and we cannot forget thatscents can bring on a sense of relaxation and calm.
Incorporating herbs in your soap making is simple and can be done in so many ways.
Scentingyour soaps with essential oils
The mostpopular way on how to make herbal soap is adding essential oils from variousherbs.  Essential oils are aromaticliquids from extracted from vegetation such as flowers, trees, bushes androots. Essential oils can be used topically, inhaled and certain therapeuticgrade oils can be ingested.
Essential oils are the natural way to scent yoursoap and benefit from the therapeutic properties of the herbs. Essential oilsshould be purchased from reputable soap making suppliers or essential oilsuppliers to ensure the quality of the products you are putting in soaps.Scenting with essential oils is how to make herbal soap using any of the soapmaking methods, cold process, hot process, melt and pour, rebatching and liquidsoap making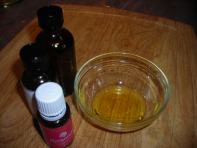 Coloringyour soap with herbs
Herbscan be used to color your soap. I try very hard to avoid unnecessary chemicalsin my soap making. Adding sage, basil and kelp (kinda like an herb) willtransform the color of your soap to different shades of green. These herbsshould be adding at trace, I take about half a cup of soap mixture and mix theherbs, once it is consistent I add to the larger batch. You can also color yoursoap by replacing the water with strong steeped herbal tea and infusing theoils.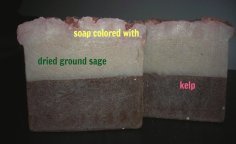 Infusingthe soap oils with herbs
This isa great way to benefit from the therapeutic qualities, add some light color andcertain scents may last. Calendula, chamomile and lavender flowers can beinfused into your oils. All these herbs have skin calming effects and your soapmaking oils can be infused with these herbs first. When your herb gardenharvest has been fruitful this is a great way to make good use of the extrabounty.
Addingappeal with herbs
As youfind out more about how to make herbal soap, you will notice that sometimes itcan simply be about making the soap prettier. Herbs and flowers can be added tothe top of soaps for a dramatic effect. For cold process soaps, note that Ihave experimented after having some soap with really ugly brown flowers in themor on them. I usually wait after my soap has cured to add flowers, especiallyroses and lavender or herbs to the tops. Once the soaps are cured, I simply wetthe tops and stick the flowers to the tops. If you are using the melt and pourmethod there are no issues with adding dried flowers of herbs. Certain herbsadding some nice texture to soap dried sage or mint can be fun and attractive.
Exfoliatingwith herbs
Herbs,flowers and seeds can add the scrub effect when adding to your soap.
juniper berries add some scrubbing effect, smell wonderful and decorate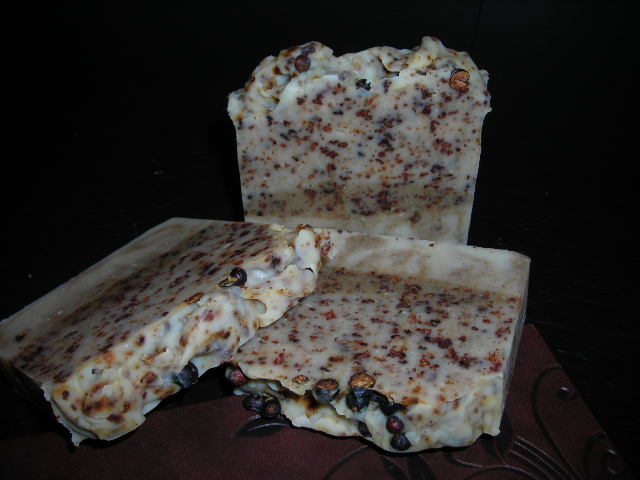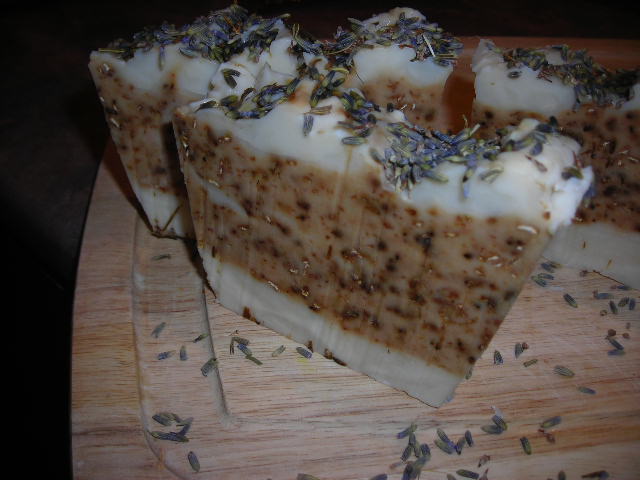 lavender added to the top of cold process soap after the bars have cured
Herbsand botanicals are a value added to the soap making experience, be creative andhave fun.
Here is a short list of certain herbs that can be used in soapmaking. Please note that how to make herbal soap depends on the soap makingmethod that you are using. Herbal scents will linger more with the rebatchingmethod and herbs will stay intact if you are adding them to a melt and pour base.
List of herbs to use in soap making
Leave How to make herbal soap and go to Homepage
Recipes
About Soap Making
Soap Making Methods
More Great Stuff!
Site Policies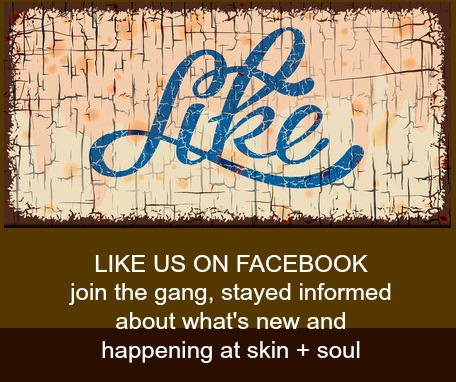 By Ron & Andrea Rennick, Copyright © 2012 to 2015 www.ridgesoap.com
 – All Rights Reserved